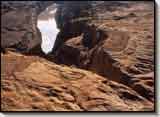 The Hole-in-the-Rock Trail - A wagon road blazed over country so broken up and inhospitable, the company's scouts declared that it was impassable!

The Hole-in-the-Rock Trail was named after a crevice the colonizers utilized to gain access to the Colorado River gorge and some of the most broken terrain in North America. Photograph: Hole-in-the-Rock crevice prior to Lake Powell, Lynn Lyman Photo.

The 250-mile long trail runs from Parowan in southwestern Utah to Bluff and Montezuma Fort in southeastern Utah. The road was blazed during the winter of 1879-80 by 70 families who were answering a call from The Church of Jesus Christ of Latter-day Saints to establish a settlement in the Four Corners region. The first eight-five miles of their route from Parowan, Utah, to Escalante, Utah, was over established wagon roads. From Escalante, Utah, the last established town along their route, the colonizers blasted a trail through the Colorado River gorge, descended crevices, and crossed deep ravines, mountains, deserts, and forests - terrain so inhospitable many of their own scouts deemed it as impassable.

By the time they reached their destination, they had been en route twice as long as it took some the same participants to pull handcarts 1300 miles to the Salt Lake Valley.

Once completed, the wagon road provided a vitial access and supply link. The road was utilized in its entirety for one year. In 1881, Charles Hall, who operated the ferry at the bottom of the Hole-in-the-Rock, moved his ferry thirty miles upstream, where he established Hall's Crossing. Although Hall's Crossing bypassed the Hole-in-the-Rock crevice, major sections of the original wagon road were utilized in conjunction with the new river crossing.