The center of the Bluff Fort looking south.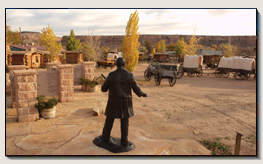 You are automatically being redirected to the new
Bluff Fort Historic Site web page




Admission is Free!


Donations are greatly appreciated. The development of the site and its ongoing operation are made possible by your donations.



Hours

:
Visitors' Center, and historic structures: 9:00 a.m. - 6:00 p.m., Monday through Saturday including holidays. March 10 through October 31st.



Visitors Welcome After Hours:


During off hours, buildings are closed, but visitors are welcome to stroll through the site, take a photo with a covered wagon or peak through the windows of the pioneer cabins.

Contact us with any large group or off-hour visiting needs.
Visitors' Center #435-672-9995
The restored meetinghouse exterior/interior.

| | | |
| --- | --- | --- |
| | | |
A great place for a family reunion, receptions, meetings or any other group gatherings.
The restored meetinghouse provides a great setting for a meeting. The meetinghouse is equipped with sound and video systems. Our large covered patio with tables/chairs and a large fully equiped kitchen provides the means for feeding 100 or more. There are spacious areas with great historic backdrops for firesides and skits.



The Lyman and Perkins families in front of the cabins they sponsored and built. The interior image shows some of the furnishing in the Perkins' cabin.

| | | |
| --- | --- | --- |
| | | |
In
2013, over 19,000 visitors from all 50 states, 6 Canadian provinces and 29 foreign countries experienced the Bluff Fort Historic Site.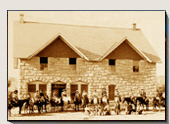 We are very excited about the rebuilding of the Bluff Co-op!
Click on this text or the image to view its progress.




Home

|

The Trail

|

Bluff Fort

|

Histories

|

HIR Foundation

|

Contact Us

|

Donate
© Copyright Hole-in-the-Rock Foundation ® 2008


The Hole-in-the-Rock Foundation - Preserving the History and Sharing the Legacy

"Is it possible in any fertile spot in Utah, no matter how remote from civilization, not to find a prosperous band of Mormons? It might have been so before '79, but now we find many interesting settlements. One, a carefully laid out village, built on the bottom-lands of the San Juan River and the cliffs, is fitly called Bluff City.
I cannot imagine a finer example of Mormon enterprise than these two hundred people, with their wealth of cattle and horses, leaving good homes, and facing the dangers and hardships of an unknown country." Remington W. Lane, Harpers Magazine, December, 9, 1893.