The Bluff Co-op 1890's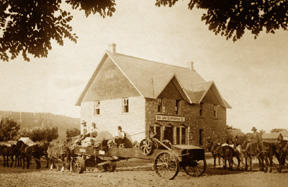 In April 2012 Construction Began on the Co-op Replica / Visitors' Center

The Bluff Co-op proved to be a very successful enterprise for the Bluff pioneers. It provided a means for trading and obtaining goods for the pioneers, Navajos, and Utes.
The Co-op replica will house the Bluff Fort Historic Site visitors' center, a Hole-in-the-Rock Trail interpretive center and a gift shop.

The images below (courtesy of Dennis Harvey and C. Roring) will be updated frequently so you may monitor its progress.
Special thanks to those whose donations are making this possible.
The images below are in order of the most recent to the oldest (April 19, 2012).